Dr. Carter Garber
Dr. Garber is the founding General Manager of TecAp. He is a serial social entrepreneur who has founded more than 20 social enterprises including microfinance institutions and a credit union, two microfinance investment vehicles, consulting entities, a network for social enterprises, educational institutes, and periodicals. Built to last, many of his endeavors have lived beyond their 20th anniversary. He has worked for more than a decade in Nicaragua over the years. He has worked in community economic development on four continents during the last 35 years. Dr. Garber teaches about microfranchises in both Central America and North America. He founded TecAp as the first microfranchise in Nicaragua and a demonstration that microfranchising could work in Central America. He also is the Executive Director of IDEAS (www.ideasnet.org).
Hermogenes Zelaya
Mr. Zelaya coordinates all in-country programming in Nicaragua. He spends much of his time on the road visiting coffee cooperatives, women's groups, local governments, and other key partners in country. He recruits new groups of women microfranchisees for TecAp, provides technical assistance as the microfranchisees become proficient with the sales process, and coordinates product shipments as well. He helped found the TecAp operations. Zelaya has over twenty years' experience promoting appropriate technologies in agricultural communities and supporting development projects that target women specifically.
Yelba Benavidez
Ms. Benevidez is active with all the logistical support of the women and youth microfranchisees. She also handles the bookkeeping and the warehousing and inventory. Before her work with TecAp, she served with a sales organization.
Alexander Barahona
Alex has worked with us in the past on some software related tasks. He is recently working on improving the user's experience on our website and updating its content.
Stephanie Atli
Ms. Atli volunteered with TecAp with TecAp in Nicaragua from May 2011-May 2012. She provided overall support to the program, assisting with grant writing, reporting and other communications, and performs analyses for business planning and budget proposals. She has an MS in International Affairs from the Georgia Institute of Technology. She was later elected to the Board of Directors of IDEAS and now serves as Vice President.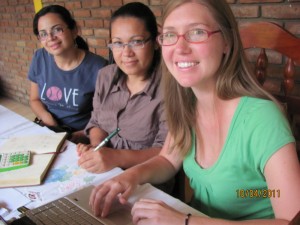 Rosa Amanda Vargas
Ms. Vargas is the legal representative of IDEAS in Nicaragua. She also leads the accounting team for TecAp and IDEAS.
Other volunteers
TecAp has a variety of volunteers in the US and elsewhere. They have provided very important contributions since the project was envisioned in 2009. Learn more about volunteering with TecAp.