Microfranchisees are rural women from fair trade coffee cooperatives that possess the basic skills and motivation to promote solar and other appropriate technologies and sell small solar-powered items door to door.  Microfranchisees are recruited in groups of 5-10 women per group.  These women are vetted by the management of their coffee cooperative to ensure that they are active community members (which provides natural sales outlets), have experience managing income from a business, and are in good standing financially (since microfranchisees handle hundreds of dollars worth of product on a regular basis).
See the profiles of the first group of TecAp microfranchisees from the cooperative CCAJ in Jalapa, Nicaragua.
TecAp launches groups of women microfranchisees
IDEAS has calculated the cost of organizing, training and launching a new group of 10 microfranchisees at around $2,300.  That amount includes an initial meeting with management to present the project, a second meeting with a large group of women if management approves the project, and then a third meeting with the women who decide to become microfranchisees.  Those women will be provided catalogs and signs for their homes and will convene once a month for the next three months to receive product trainings and assistance with the sales process.  After these 3 days (over the course of 3 months), they will be able to continue selling and managing their business independently.  Each woman has her own exclusive territory in which to sell.
Click here to donate and help launch a new group of microfranchisees.
Women-owned convenience stores carry TecAp products
In addition to recruiting groups of women, IDEAS also identifies women in key geographic areas who already have convenience stores in their homes and will be training them to become official points of sale for TecAp products. In some of the most remote regions where the products will be most needed, it is less possible to organize an entire group of women but still a very rich market for these products, so training women microentrepreneur storeowners to distribute TecAp products will be a viable alternative if organizing an entire group of women is not possible.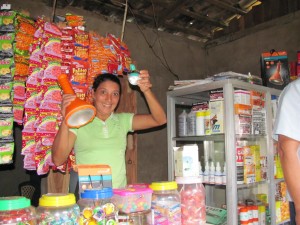 Funders support the recruitment and training of new microfranchisees as well as the growth of the microfranchise, which will increase the incomes of many women and rural coffee-growing families, putting needed solar-powered products in the hands of those who need them most.  This program also is a very valuable test of and testament to the possibilities of the microfranchising business model in Latin America.
Profiles of Women Microfranisees
Noris Altamirano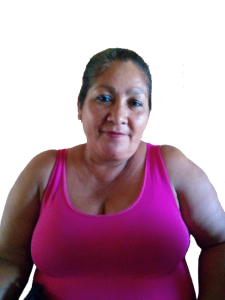 Noris Altamirano is a happy 47 year old single mother of one son. Noris lives in a community of Jalapa called El Escambray and has been a member of TecAp since 2014. Noris is a member of Zero Hunger Cooperative, through which she learned of the opportunity to work with TecAp. After being recommended by her cooperative to become a member TecAp, she met with Dayvis Barahona, TecAp's Regional Technician, to discuess the details of becoming a part of the TecAp family.
The decision to become part of the TecAp program was one that she made with her son. Noris shared that she asked her son if he would be willing to help her sell lamps and when he responded positively, they began their jourey together as promoters of solar energy. Noris's son currently helps her by driving his motorcycle into neighboring communities in search for people who wish to buy solar lamps. Noris shares that it can be difficult to sell prodcuts because people worry about the prices.
Noris shares that she is very grateful for the program and that she would like to receive additional training about solar products, changes in prices and other TecAp updates that are important to know when making a sale. She expresses that she is available to participate on a monthly basis in meetings to learn about TecAp changes and participate in TecAp trainings.
Noris was motivated to work with TecAp as it provided her with the opportunity to help people in other communities by providing them the opportunity to have light in their homes. With the income Noris earned, she purchased two solar lamps for personal use.
Herlinda Carmos Centeno MF- El Rosario, Murra

Herlinda, 38, lives in El Rosario, a community of Murra, with her husband and three sons. Murra is located 20 miles from the small city of Murra, which is a two hour drive during the dry season. During the rainy season, this drive can take longer than five hours and is complicated by deep rutted roads and mud. Herlinda's home can be reached after crossing two flowing rivers and driving on roads made of soft mud that can be up to three feet deep. Herlinda's isolated community has electricity, but does not have cellphone service. In order to make a phone call, one must travel an hour by foot to reach a place with reception.
In the front room of Herlinda's home is a convenience store, that carries a variety of items—from medicine for animals to flip-flops. It is not uncommon for women in Nicaragua to have convenience stores in their home as a way to earn income for their families. Her home is located on a main road where a river crosses the street. Travelers have to slow down to cross, notice her store and often come in and shop. People also come down from the mountains, where there is no light, to buy solar powered products from her.
When learning about TecAp, Herlinda took interest in learning about solar power as a means of learning how to help surrounding communities without conventional electricity in addition to exploring an employment opportunity as a woman, which is rare. Because the economy of northern Nicaragua is agriculture, farming jobs are seasonal and are unpaid if one is tending to their own land. Herlinda was trained in 2012 to become a microfranchisee.
Since 2012, Herlinda has been able to add new products to sell in her small store. Now, she sells solar powered items alongside veterinary medicine, food, and other items. This has helped bring in more the extra income to feed her children and do a lot more for her community. Small diversified stores like that of Herlinda are invaluable to the people in her community who have to commute to Murra for supplies.
Through displaying solar lamps in her convenience store, she is able to advertise her products. Herlinda's kind and gentle spirit makes it easy for her to connect and gain the trust of people who pass though El Rosario. Herlinda not only serves as a microfranchisee in her community, but also as an educator. Herlinda is sought out by people who are curious to learn more about solar power, how it works and if it's worth investing in. When customers do indeed purchase items from her, she provides them with a comprehensive session to learn how to use the products and also follows up with them to ensure that there are no defects with the devices.
Herlinda is a mother who works hard to create a better future for her children. Even though she has not completed her elementary education and writes with many misspellings, she studiously works on educating on the use and application of the veterinary products she sells. Her community selected her to further train in basic veterinary medicine and application. Many come for advice on dosage and to buy her products. She had nothing when she started out. Because of her determination and effort, her business is now worth $3,000. Herlinda is an excellent stewardess of her money and has increased her supplies seven times from when she started three years ago.
Herlinda's understanding of the community and their needs exceeds her need to meet her own. When asked by TecAp staff what the program could do to improve their services, Herlinda does not think of herself, but rather recommends expanding into regions where there still is no solar power as those people are in the greatest need.
Johana del Rosario Vasquez Bellorin
Johana, 39, is a mother of two and has many roles within her community of Zapotillal Abajo of Murra. Johanna fulfills the roles of most rural Nicaraguan women by working with their family in harvesting corn and coffee, raising cattle, selling chickens and pigs, maintaining her home and taking care of her husband and youngest child. As a loving and supportive parent, Johana also works hard to provide financial assistance to her eldest child who is studying at a university in Estelí. On top of these duties, Johana works with the mayor of her community to organize, plan and implement projects to meet her community's needs. She additionally serves as the Secretary of her church and is a member of the San Jose de la Luz Cooperative.
Johana found out about TecAp through her cooperative and despite her busy schedule was very eager to become part of the program as a means to earn additional income. Before working with TecAp, Johana had only heard of solar panels, not solar lamps. With the support of her husband and relationship with TecAp staff, Johana learned the use and functionality of these lamps. As Johana set out to find potential buyers, she would bright with her the TecAp solar lamp catalog to show buyers pictures of the products, their features and prices. After developing a knack for selling lamps, Johana was able to buy necessities for her home and family, support her daughter studying in Estelí, and purchase items for herself like perfume with the income earned.
Johana admits that when she approaches clients that some are skeptical about solar lamps and their value, but after she spends time teaching the utility of the lamps to clients, their doubts vanish. From Johanna's experience, the most purchased solar lamp is the Picolite. To Johana, the benefits of being involved with TecAp do not stop with her. Although crops were plagued last harvest season affecting the economy, Johana stays persistent in pursuing clients because she wants to help others save money with the investment of solar power.
Maria Auxiliadora Huete Rizo- Jicaro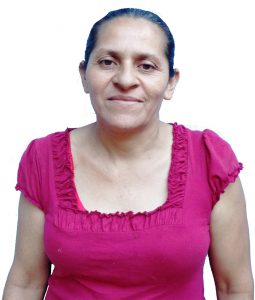 Maria lives in Jicaro and is a proud wife and mother of three sons in their early 20s. Maria was introduced to opportunities TecAp presents through her youngest son. Jóse was trained by TecAp as a certified solar installer and repairer. He is currently a top performing installer in the TecAp program working in multiple counties. Jóse's enthusiasm for solar power was passed to his mother and she expressed interest in selling solar lamps.
To sell solar lamps, Maria ventures out to surrounding communities that do not have conventional electricity to teach people about solar products and their benefits. Maria's desire to help surrounding communities obtain light is also a motivating factor in her participation with TecAp. Through Maria's continuous, active search for new clients, she has become well known and trusted in the area. Her reputation and respect for selling quality solar products and additional income from selling lamps inspires Maria to stay involved with the TecAp program.
As with many other microfranchisees, Maria receives help from her three sons in selling products. One son travels by motorcycle into the mountains buying produce that he then brings down the mountains by horses and mules. When he goes up to remote communities to buy, he brings along solar powered lamps since the communities have not electricity. In this way, he helps his mother make money on the side of his regular work. In Nicaragua and most developing countries, the family that sells together, stays together. A supportive strong family unit is often essential for survival. In addition, the father who has a workshop in the house, gives permission for Jóse, who is his helper, to leave for days at a time to do installations.
With the income that Maria receives from her sales, she buys food for her household consisting of her husband, two sons and their partners and her granddaughter.
Maria's eagerness to continue to work with TecAp is demonstrated in her requests for display cases to show off solar powered lamps where she is selling other things. Maria and her sons continue to work hard as a team to fulfill their own personal needs as well as the needs of the rural communities of El Jicaro, Murra and Jalapa.
Migdalia del Carmen Rodriguez Herrera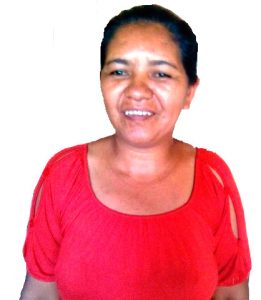 Migdalia, 45, lives in the Providencia, Jalapa. Migdalia began working with TecAp in 2011 and is considered to be a pioneer in the sales of solar lamps. Migdalia's husband is a member of the CCAJ Cooperative and it was though this cooperative that Migdalia received the invite to attend TecAp meetings. After expressing interest in becoming part of the program, she received formal training on the solar energy and products.
Migdalia received TecAp products on the very same day she received her formal training. Because the TecAp program was in its beginning phases at this time, there was not a lot pf publicity. Migdalia, a forward thinker, took publicity into her own hands. To show people the benefits of the solar lamps, Migdalia would have them on display in her home for people to visit and see. Because many people did not have any knowledge of solar energy at this time, Migdalia played a very important role in teaching people how solar lamps worked and that they too could receive the benefits of solar power in their own homes.
Migdalia received the assistance of her daughter, Iris Garmendia, in selling products within her community. Migdalia admits that learning how to use the products was little difficult for her, but because her daughter is very smart, she was able to receive the help and support she needed. Migdalia learned the information needed to answer the questions of her clients while her daughter also learned how to repair solar lights that sometimes broke.
Migdalia says that she loved the idea of having the opportunity to be a microentrepreneur and make her own income that she could use to supply basic household items. Through the TecAp trainings, Migdalia has learned a great deal about products features, their prices and sales.
Migdalia reports that the Sunking Pro is the lamp that she has sold the most. Migdalia recommends that TecAp recruit responsible people to sell with TecAp who can adapt to selling within the countryside. With the money that Migdalia has earned, she has purchased metal panels for her home as well as a solar lamp for personal use.
Migdalia says that she wants to continue to be informed about the changes pertaining the TecAp program and products and that she would like monthly meetings to learn about new topics.
Rosa Amanda Vargas
Rosa Amanda, 62, is a kind, fun spirted woman who lives in Nicaragua's boisterous capital, Managua. Rosa Amanda is a single mother of three and proud grandmother of five. For the past 17 years, Rosa Amanda has worked with IDEAS, the international non-profit organization that created the TecAp program.
Dr. Carter Garber, IDEAS's founder and CEO, provided Rosa Amanda an opportunity to work as a researcher to study microfranchising in the in the Niracaguan countryside. Rosa Amanda was given the task to study the impact of microfranchising and ensure that benefits were substantial. Because Rosa Amanda not only enjoys working as a researcher and investigator but also enjoys the countryside, she found this to be a perfect fit for her.
In 2011, the year that the TecAp was founded, there were many power outages in Managua. People were distraught with the unreliability of the city's conventional electricity and Rosa Amanda found this to be a perfect opportunity to begin her career as a microfranchisee. Rosa Amanda, a well-liked woman in her neighborhood as well as an active church member, would speak to her friends and acquaintances about the cost benefit of purchasing a solar lamp versus the costs of regularly buying conventional batteries for flashlights. Rosa Amanda began successfully selling solar products one month after being involved with TecAp.
Rosa Amanda is an enthusiast for the environment as well as for renewable energy and is glad that she can contribute to people using clean, sustainable energy. Rosa Amanda's goal as a microfranchisee is to not generate substantial income for herself, but to promote the use of solar power. Because of this, she sells lamps for a low price, barely making any profit. Rosa Amanda enjoys meeting new people though TecAp and continues to be successful selling with the help of her son.
Ruby Del Carmen Lopez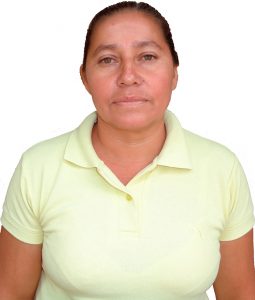 Ruby Lopez is a native of La Palmera community in the municipality of Condega. Ruby is a married and lives with her husband, five children and daughter in law. Ruby's family works in agriculture and she serves as a leader in a school within her community.
As a leader, Ruby meetings with parents of children to assess projects to be launched within the community, including projects regarding water, latrines, electricity and even solar panels.
Ruby joined the TecAp program in 2013 after she was selected to promote and sell solar lamps because of per previous experience of work in the countryside. Prior to working with TecAp Ruby worked as a leader within a government program called Bono Productivo, a program that strives to reduce rural poverty through the provision of livestock.
Since being a member of TecAp, Ruby continuously participated in meetings and is shows interest in topics including financing of solar panels, the introduction of new solar technology, and the use and characteristics of TecAp solar products.
Ruby is always interested in sharing and her sales experience with other microfranchisees as a means of continuously learning. Within the first month of receiving her first lamps, she made her first sale. Ruby initially would go out to offer her solar products, but thanks to her TecAp banner people began to seek her out in her home. Because she lives in a community that is visited by people from other communities, she does not have to leave her home in search of clients very often.
Working with TecAp is allows Ruby to fulfill her passions—selling as means of enjoying oneself and learning, not out of obligation. Other benefits that Ruby has attained from working with TecAp include meeting new people through offering her products, earning supplemental income, obtaining knowledge on solar power, receiving the opportunity to develop herself professionally and to move forward in her life. Ruby said that TecAp has given her great support and for this, she said only a grave illness would prevent her from working with the program.
Yajaira del Carmen Briones Zeledón

Yajaira, 33 with three children, lives in La Bonanza, a very rural community of San Juan del Río Coco that does not have conventional electricity. Yajaira is a wife and mother of two and has been working with the TecAp program for approximately three years. Before becoming involved with TecAp, Yajaira worked in saleswoman for Avon. With this job, she would travel through her own community and others with catalogues abundant with beauty products. When she learned of an opportunity to work with TecAp, she felt confident that she already possessed the skills needed to develop a relationship with clients and sell products.
She learned of TecAp via her sister-in-law who works at the Cooperativa Juan Alfredo Zeladon, in which her father is a leader and her husband is a member. She happily took the opportunity to learn about solar energy and gain experience selling with TecAp.
With her can-do attitude, Yajaira sold her first product two weeks after becoming involved with TecAp. Because the economy is La Bonanza is based on agriculture and is season, her sales are dependent on the time of year. Yajaira has been successful in selling over $250 worth of products during harvest season. With her already established reputation within the community, Yajaira has the advantage of not leaving her home in search for potential buyers as they come to her from communities without light.
For people with whom she has rapport and trust, she allows for people to pay her in two payments or within 20 days. This is very beneficial to consumers as the national GDP per capita in 2014 was reported to be only $4,794.
The benefits reaped by her customers are abundant and in turn Yajaira is able to purchase seeds for her three pieces of land where her husband grows corn, beans and coffee as well as medicine for her family. Yajaira has prospered in her three years with TecAp and is looking forward to becoming more knowledgeable about rooftop solar systems in the near future.
Yajaira has a strong social network from being a member of the local Catholic church for 15 years. She has been teaching 9 to 10 year olds bible lessons.
Alma Iris Garmendi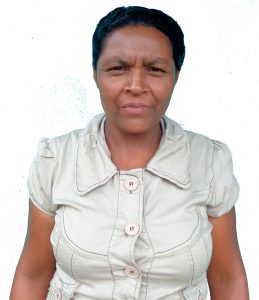 Alma Iris, 48, and mother of two sons, is one of TecAp's top selling microfranchisees. Alma Iris was first involved with TecAp as a consumer solar powered lights as her community does not have conventional electricity or cellphone reception. After buying her first solar powered lamp from her sister-in-law, Alma Iris realized that being a microfranchisee with TecAp would be a great business opportunity. In 2012 Alma Iris became an avid seller and enthusiastic participant in the TecAp program. Since that time, Alma Iris has continued to sell products regularly and is active in 2016.
Like many TecAp microfranchisees, Alma Iris takes pride in selling solar powered light to people in surrounding communities who do not have conventional electricity. Alma Iris lives on a main road in a community of Jalapa called Terrerío where she sells TecAp products and services. Alma Iris not only decorates the outside of her home with a TecAp banner, but she also approaches and shows products to passersby who commute past her conveniently located home. As she is an active member of her church, she capitalizes on the opportunity to bring her TecAp catalog of products with her to services where she educates fellow members about the use and benefit of solar power.
Like many microfranchisees, Alma Iris mobilizes help from her family to generate income. To have a more expanded network of clients, Alma Iris's son helps her in finding potential buyers and selling additional solar lamps.
Alma Iris is pleased with the benefits of using solar powered lamps for herself and others, including having an uncontaminated living space from smoke of kerosene lamps and candles in addition to saving money in the long run from not purchasing kerosene, candles or standard batteries. Alma Iris knows that may be hard for a poor family to have the $75 in cash to pay for one of the bigger lamps that also charge cell phones. To facilitate the purchase of more expensive solar products to people that she trusts, Alma Iris takes a personal risk by permitting them to pay her with two payments instead of one.
The dual role of microfranchisees is to not only to promote development of their local communities, but of their own lives as well. With the income received from selling solar products, Alma Iris has been able to purchase her own solar powered lamps, a table, clothes, shoes and food. Now having established the reputation of the women who sells solar powered lights, Alma Iris is eager to continue working with TecAp in the future.
Elvia del Carmen Aviles
Elvia, 46, is from a Macaraly, a community of Jicaro. She has her husband,Otilio, work together to promote and sell TecAp solar products. Otilio is a member of the CCAJ Cooperative and through this cooperative he learned about another microfranchisee, Sipriana, who uses her home as a distrubution center for TecAp solar products.
After speaking with the TecAp's Regional Technician, Dayvis Barahona, Elvia was given permission to retreive items from Sipriana's home. Elvia and her husband realized their first sale four months after inititing with TecAp. Elvia and Otilio are very careful with the responsibility that comes from having many solar products on hand; therefore, they only request to retrieve items from Sipriana's home once they have a buyer.
While Elvia works outside the home, Olvilio cares for their home and from there he sells products. To obtain more customers, Elvia ventures out into surrounding communities of the countryside to find potential buyers. Elvia does not simply try to sell solar lamps, but instead she trys to have people understand the benefits of these products and how they are better than both kerosene lamps and candles. Elvia and Olvilio maintain interested in selling TecAp solar lamps as they say they are proud to sell products of good quality.
Elvia and her husband share the thought that because people in the countryside are have few financial resources who have no electricity, there is a great need to acquire solar lamps. They have reported that only the way they would discontinue working with TecAp would be if it ceased to exist.
Karen Jessenia Bonilla Castellano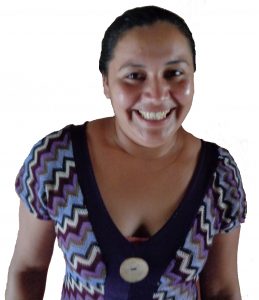 Karen, 35, is a mother of two with a great enthusiasm and talents as a business woman. From the age of 15, Karen began making a living from making custom dresses for women and girls in the town of Murra and surrounding communities. Twenty years later, Karen is still sought out for her services in making custom dresses. She also got on a bus and went out to rural areas and walked house to house selling.
When Karen was invited to work with TecAp in 2011, she quickly accepted the opportunity because she likes new business challenges. Two weeks later, Karen sold her first solar product.
Karen initially started selling solar products to friends and family and soon after began offering them to customers of her dress business. Karen quickly gained the confidence of people in the community by explaining them about the TecAp program and its solar products in addition to teaching them how investing in a solar lamp would save them money in the long run. Due to Karen's key location in the town through which all rural residents have to pass as well as her ability to spark potential buyers' interest, she has had great success in selling solar lamps. She reports that she is able to sell approximately $365 in products per month during harvest season.
Karen gleefully shares that she earns more income as microfranchisee with TecAp than she earns from her small store and dress making business. With the income generated from selling solar products, Karen has purchased a new roof and invests in buying other items to sell. Her income provides food for the children of her sister who is not able to work.
Before working with TecAp, Karen had no knowledge of solar power. Now, she is responsible for providing TecAp with recommendations for new products and is the top seller of TecAp microfranchisees in Murra. Since she lives in the main town, she gets items TecAp sends by bus and maintains a distribution center for the rural microfranchisees so that they can pick up the items rather than waiting several days to get them by bus.
Two years after beginning to work with TecAp, Karen used part of her earnings to open a convenience store in the front of her home to sell a variety of products to people of her community. After seeing its success, she remodeled the front of her house to create a door for people to enter the store by a separate door and installed display cases.
With the opening of Karen's store, she now displays TecAp's lamps in display case and to attract potential buyers. Because many surrounding communities of Murra do not have clothing stores, hardware, a pharmacy or even grocery stores, many people travel to Murra on the weekends where they see Karen's store, located on the main road entering the small town. She bought a copy machine and does a lively business since she is a block from city hall. She spends spare time teaching other women to be entrepreneurs, including how to sew and make bakery products. She talks to women about broadening their horizons beyond traditional gender roles.
In 2015, Karen has become extremely successful in selling solar rooftop systems. The micro-technicians of TecAp are kept busy each month with several clients that Karen has found and sent to microfinance institutions. Once the institution approves the loan, the youth install the systems. She has become the best selling microfranchisee of IDEAS in the country.
Maria Victoria Crus Escorcia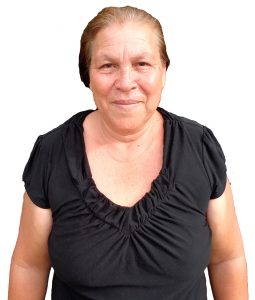 Maria, 55, is from the San Jose, a community of San Juan del Rio Coco. Maria is dedicated partner and mother of three who lives with her partner and their grandchildren. The members of her household work in agriculture while the children study.
Maria is a leader in her local community of San Jose. Outside her home, Maria raises chickens and has the primary duty of taking care of the home. She sometimes works in agriculture and does not partake in any additional economic activities apart from working with TecAp.
Maria began working with TecAp because she thought that it was a great opportunity to develop herself as an entrepreneur. Maria says that the benefits that she has received from selling solar lamps have been very beneficial in supporting her household.
Maria was successful in selling a lamp the very first day she became a member of the TecAp program. To find customers, Maria goes out into neighboring communities every eight days. She shares that her clients are typically farm workers, both males and females, between the ages of 30 and 40. These clients typically are interested in the larger lamps, which generate more income for Maria. With the income generated, Maria has purchased food and other needed household supplies.
In addition to receiving supplemental income, Maria reports that working with TecAp is a convenient experience as she can sell from her home, TecAp staff is in constant communication with her, and she meets new people when obtaining new clients.
Maria reports that she enjoys attending TecAp meetings where she is able to learn and understand new information that can be used to help herself and her community. Maria says that she likes to stay informed regarding changes within TecAp and the solar energy market, including topics such as new products, prices, and competition.
Not only Maria benefits from being involved with TecAp. Maria shares that though the purchase of solar powered lights, clients obtain light and save money in the long run. A candle that costs three cordobas does not last a very long time and in order to avoid these frequent expenses that quickly add up, it is better to look for other alternative energies, such as solar energy, that are a better investment.
Nohemi Barahona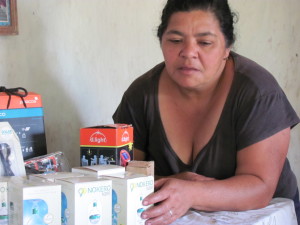 Nohemi Barahona, 49, is one of the first microfranchisees to sell solar powered products in the rural areas of Murra, bordering Honduras. She sells lanterns, cell phone chargers & lamps.
Her community was once the scene of fierce fighting by the Contras, the rebel group in the 1980s that fought the Nicaraguan government.
Murra is relatively peaceful today, and its inhabitants make their living primarily from farming corn, beans and growing coffee.
Barahona grows beans and coffee and also raises farm animals. She is a strong voice and advocate for her community.
Barahona is an activist and one of the first to raise her voice in defense of the rights of women and girls. She helps and mentors women who acquire and raise farm animals through a government support program. She volunteers with the Ministry of Health and also oversees a community pharmacy supplying veterinary medicines.
Rosibel Quiñonez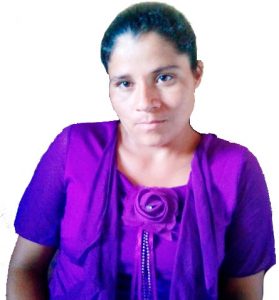 Rosibel, 33, lives in a community of Jalapa called San Jacinto. Rosibel was recruited by TecAp in 2013. Upon being recruited, Rosibel discussed the opportunity over with her husband who thought it presented itself to be a good opportunity.
Rosibel says that she enjoys working with TecAp as she receives many benefits—including additional income to by household necessities.
Thanks to the TecAp program and TecAp staff, Rosibel receives necessary information about how to sell products in addition to information about solar products and solar rooftop systems.
Rosibel says that she and other microfranchisees would like to have meetings on a monthly basis to discuss new progress in solar technology and new products offered. Rosibel said that she would also enjoy the chance to get to learn about other microfranchisees in addition to having the opportunity to speak in general about sales and the functionality of products.
Within her community, Rosibel has had the most success selling the Cuello de Garza lamp. Rosibel is always ready for the opportunity to teach clients about the prices and how they change with the fluctuation of the value of the dollar as well as inflation. Rosibel shares that she has no difficulty selling products and that she is also sought out by clients seeking TecAp products. With the income earned, Rosibel has purchased herself a Cuello de Garza lamp.
Sipriana de Jesus Salgado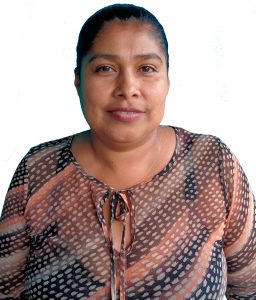 Sipriana de Jesús Salgado is a business woman who lives in Jalapa, a city located in Nueva Segovia. Sipriana is a single mother with two children, a daughter who is in secondary school and a son who is a university student in Estelí.
Sipriana began to work with TecAp in 2012 when she was a member of the CCAJ cooperative. At this time, Sipriana was in charge of the cooperative's store and was able to meet many cooperative members who did not have conventional electricity in their homes. When Sipriana became a TecAp member, she already had a large number of potential cleints.
Sipriana currently has full-time job working as a manager of a market in her city, Jalapa. Despite her busy schedule, Sipriana has taken on more responsibility within the TecAp program and volunteers her home to serve as a distribution center out of which other microfranchisees receive TecAo solar products.
Because of Sipriana's past of being involved with a cooperative, she has a wide social net. Most of her clients are farmers who live in rural communities surrounding the city of Jalapa. Sipriana reports that the benefits her consumers have received are that they are now able to charge their cell phones, discontinue using kerosene lamps and candles, and wake up early to do housework before the work day begins.
Sipriaiana is a dedicated TecAp member and believes that TecAp products are of good quality. Because of the high quality goods TecAp supplies, Sipriana said that through references and word of mouth she has attained many new clients.
Through her experience with TecAp, Sipriana says that she has developed both personally and professionally. Other benefits received from working with TecAp include complementary income, knowledge of new information, and the opportunity to make herself known in her community for the prodcuts she sells. With the money earned, Sipriana has invested in many things, including her children's school costs, food, clothes, paint for her home, an ironing board, and atoaster. Lastly, Sipriana's daughter recently fell ill and needed to go spend time in a hospital in Managua and it was with money earned from TecAp that Sipriana was able to pay for medical costs.
Yelba Benavidez
Yelba Benavidez, 38, married and a mother of two, is one of the few urban microfranchisees. She sells from her home in the city of Estelí. She also earns income as the part-time contractor doing bookkeeping for the international non-profit IDEAS, which is the microfranchisor of the TecAp. Due to a work accident that disabled her and her need to take care of two elementary age girls who are at home during the afternoon after school, she felt the need to work at home and yet there are very few Nicaraguan employers interested in workers who telecommute. IDEAS taught her bookkeeping and with her new skill, she earns while assisting rural microfranchisees to keep track with what they have paid and what they still need to pay on goods that they have received from TecAp.
Benavidez, and has worked with TecAp since six months after it initiated in mid-2011. Her animated descriptions reveal that she is zealous advocate of the program. She was a quick smile and a supportive approach to team members. She often sends items to women that they feel that they need to sell. Her approach to assisting women is to animate them to continue despite personal difficulties and one often hears laughter from the conversations as she turns what could be boring bookkeeping into a personal uplifting encounter.
When Yelba started out helping with the TecAp program and did not intend to become a buyer or much less a microfranchisee. Her supervisor asked determine how long the solar powered lamps would work, Benavidez found that some lasted throughout the entire night. So Benavidez purchased lights for personal use to serve as night lights for her daughters. Because electricity is very costly in Nicaragua, using solar powered lamps was an intuitive decision.
Benavidez decided to become a microfranchisee in order to teach others about the benefits of using solar powered lamps – they are economical and are a perfect substitute to candles, which leave traces of smoke, pose danger to children and can result in fires. Benavidez's connection to the countryside surrounding Estelí provides her with opportunities to work with women, who often serve as the head of the household, to learn how to use light to aid them having increased time for productivity within the home in addition to working long hours outside during harvest season.
When Benavidez's grandfather passed away, a memorial was held at her father's home in the countryside—a home that has no electricity. In order to keep the home lit during the all-night vigil before her grandfather's funeral, Benavidez used solar powered lights. Many residents of this area became exposed to solar power for the first time. From this time on, Benavidez's father has become involved in helping her to sell lights to his local community. Also, her sister in the city helps her find clients.
Benavidez takes pride in serving as a liaison between TecAp and women in communities of northern Nicaragua. She believes that the practicality of TecAp's solar powered products prove to be good investments for locals, as it is expected to take 50 years for electricity to reach some of the most rural areas of Nicaragua.
Please consider supporting this groundbreaking initiative that has the potential to dramatically change the distribution mechanisms in Latin America, providing economic opportunity to rural women while bringing life-changing products to the people who need them most.
TecAp needs donations now to continue to test the microfranchise as an innovative business model.  Click here to donate.