Microfranchisees are rural women from fair trade coffee cooperatives that possess the basic skills and motivation to promote solar and other appropriate technologies and sell small solar-powered items door to door.  Microfranchisees are recruited in groups of 5-10 women per group.  These women are vetted by the management of their coffee cooperative to ensure that they are active community members (which provides natural sales outlets), have experience managing income from a business, and are in good standing financially (since microfranchisees handle hundreds of dollars worth of product on a regular basis).
See the profiles of the first group of TecAp microfranchisees from the cooperative CCAJ in Jalapa, Nicaragua.
TecAp launches groups of women microfranchisees
IDEAS has calculated the cost of organizing, training and launching a new group of 10 microfranchisees at around $2,300.  That amount includes an initial meeting with management to present the project, a second meeting with a large group of women if management approves the project, and then a third meeting with the women who decide to become microfranchisees.  Those women will be provided catalogs and signs for their homes and will convene once a month for the next three months to receive product trainings and assistance with the sales process.  After these 3 days (over the course of 3 months), they will be able to continue selling and managing their business independently.  Each woman has her own exclusive territory in which to sell.
Click here to donate and help launch a new group of microfranchisees.
Women-owned convenience stores carry TecAp products
In addition to recruiting groups of women, IDEAS also identifies women in key geographic areas who already have convenience stores in their homes and will be training them to become official points of sale for TecAp products. In some of the most remote regions where the products will be most needed, it is less possible to organize an entire group of women but still a very rich market for these products, so training women microentrepreneur storeowners to distribute TecAp products will be a viable alternative if organizing an entire group of women is not possible.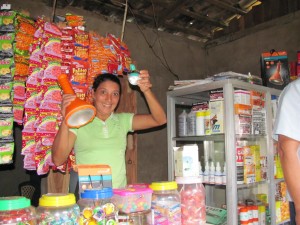 Funders support the recruitment and training of new microfranchisees as well as the growth of the microfranchise, which will increase the incomes of many women and rural coffee-growing families, putting needed solar-powered products in the hands of those who need them most.  This program also is a very valuable test of and testament to the possibilities of the microfranchising business model in Latin America.
Noris Altamirano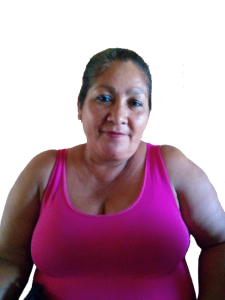 Noris Altamirano is a happy 47 year old single mother of one son. Noris lives in a community of Jalapa called El Escambray and has been a member of TecAp since 2014. Noris is a member of Zero Hunger Cooperative, through which she learned of the opportunity to work with TecAp. After being recommended by her cooperative to become a member TecAp, she met with Dayvis Barahona, TecAp's Regional Technician, to discuess the details of becoming a part of the TecAp family.
The decision to become part of the TecAp program was one that she made with her son. Noris shared that she asked her son if he would be willing to help her sell lamps and when he responded positively, they began their jourey together as promoters of solar energy. Noris's son currently helps her by driving his motorcycle into neighboring communities in search for people who wish to buy solar lamps. Noris shares that it can be difficult to sell prodcuts because people worry about the prices.
Noris shares that she is very grateful for the program and that she would like to receive additional training about solar products, changes in prices and other TecAp updates that are important to know when making a sale. She expresses that she is available to participate on a monthly basis in meetings to learn about TecAp changes and participate in TecAp trainings.
Noris was motivated to work with TecAp as it provided her with the opportunity to help people in other communities by providing them the opportunity to have light in their homes. With the income Noris earned, she purchased two solar lamps for personal use.
Please consider supporting this groundbreaking initiative that has the potential to dramatically change the distribution mechanisms in Latin America, providing economic opportunity to rural women while bringing life-changing products to the people who need them most.
TecAp needs donations now to continue to test the microfranchise as an innovative business model.  Click here to donate.