Profiles of some of the Solar Micro Technicians trained by and working with TecAp
 We have trained and graduated 76 rural youth as solar installers and repairers. They are certified by the National Technical Institute (INATEC). They are youth from low income families who would not have been able to obtain this education without a scholarship. The entity that provided scholarships in 2015 was the First Solar Corporate Charitable Fund of the Toledo Community Foundation. This training allows a graduate to earn by finding clients who desire rooftops systems and also earn by installing their system. In addition, the micro-technician earns by repairing systems and selling replacement parts. Finally, they can earn by selling smaller solar powered items.
To show the diversity of the youth trained, we provide profiles of a few of the 76 trained to date.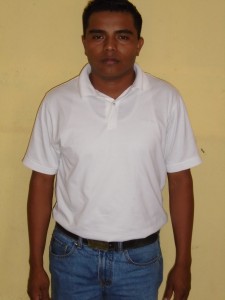 José Santos López Vásquez, 29, is a man with a passion for studying who said, "One never stops learning." Jose is currently finishing up his last year of schooling at Universidad Martin Lutero where he studies Engineering Management of Agriculture. Jose and his family work in coffee farming and are members of a cooperative called San Jose de la Luz. Jose also works as a technician for the coop.
Jose was chosen by the president of his cooperative to partake in the TecAp solar systems course. Jose gladly accepted the scholarship. Jose admits that the course was a little difficult in the beginning as it contained a lot of new technical information, but Jose proudly admits, "I like process of learning new things, and that's why I'm always studying."
After completing the solar course, Jose has worked with solar panel installations and repairs. These jobs have allowed him to travel to other communities in the region of Murra, including to El Paraisito and Quebrada Negra.
Not only is Jose certified as a solar panel technician, but he is also a microfranchisee who sells solar lamps. With his dedication to succeed, he sold his first solar lamp only one week after having received the products. Jose obtains new customers by traveling to various communities looking for prospect buyers. Since a common problem in this region is a lack of money, Jose reports that people often tell him that they are interested in purchasing his products but will not get paid until a certain day in the future. Instead of being let down that he did not succeed in selling a product, Jose returns on the day indicated by the potential consumer to close the transaction.
Jose is persistent, disciplined and always is sure to save a portion of his income. The rest, he says, is allocated towards his studies and other personal uses. Jose remains active as a participant in the TecAp program not only for the income he receives, but for the opportunity to provide solar powered light for students to be able to study and do their homework.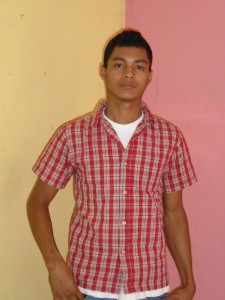 Elix Antonio Meneses, 21, is a lively, forward thinking young man. Elix lives with his father, mother and nephew in a community of San Juan del Río Coco named San Antonio Abajo. Neither of Elix's parents obtained any schooling but, with their support, Elix is finishing up his last year of his high school degree.
Elix and his family are members of a local cooperative called José Alfredo Zeledón (JAZ). When not studying, Elix works on his own piece of land where he cultivates coffee, which he sells to the JAZ cooperative. It was through JAZ that Elix learned about the opportunity for scholarships to participate in TecAp's solar course.
Before working with TecAp, Elix didn't know much about solar power, but that he was curious to learn more about it. When reflecting on the course, Elix said learning how to install and repair solar panels was not difficult as one simply has to follow a sequence of
steps with care and caution to complete the task. By participating in the course, he saw a way to learn new information that would not increase opportunities to earn income, but also assist members in his community needed to have their solar panels repaired or new ones installed.
Although the economy in the region has not been very strong, Elix has done very well selling his services. Elix also accepted the opportunity to sell solar lamps with TecAp. Being involved as a microfranchisee as well as a micro technician brings him more money. When he finds those who cannot qualify for a loan to buy a system, they may be able to buy small solar products and still obtain light. Elix also enjoys continuing to work with TecAp in gratitude for the educational support given though the solar panel course.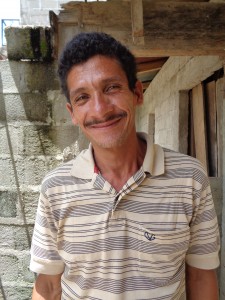 Luis Ponce, 42, is one of the older "young people" that TecAp has trained. The micro technician program started with the idea of training youth. However, some older persons from very isolated communities stepped up to take the training opportunity when none of the youth of their community were ready for the challenge of walking. Luis arose a couple of hours after midnight and walked in the dark about 4 hours to get to the bus that then would take him to the town of Murra where he changed buses to get to the training. TecAp admired his perseverance and knew that he had the drive to make agood micro technician.
Luis Ponce lives in a community outside of Murra that neither has conventional electricity nor cellphone reception. To provide for his family, Luis does what most people do for work in Nicaragua—work in agriculture. Fortunately, Luis and his family own a piece of land that they work on year round. Luis keeps very busy as a husband, father, worker and leader. Luis's kind demeanor and forward thinking have helped him maintain a leadership role within his community for the past fourteen years in which he serves as a liaison between the mayor and his community. He also is a volunteer motivator to inspire community residents to work and take on new challenges.
Always thinking of the needs of his community, Luis declares "working with TecAp is a way to help my community live in a cleaner, healthier environment though solar power."
It had been more than a couple of decades since Luis has been inside a classroom when he began solar energy training course. He remembers wondering if he had what it might take to keep up with his fellow students who were less than half his age. "I was glad that I could still learn a technical subject like solar energy. I found that I was able to share from my experience things that the younger people did not know about construction and repair."
After the training, neighbors sought out for his services in installing and repairing solar panels. When a coffee plague stretched through Nicaragua, causing most farmers to lose a lot of their crops, it resulted in a lot less income for the harvest season. There has not been as much extra money this year as there would normally be. But Luis found the people who had been less affected less and continued to sell rooftop systems.
After several microtechnicians finished their solar systems course with TecAp, TecAp expanded its services to them by giving them the option to sell solar lamps in their communities. Luis gladly took this opportunity and currently sells solar lamps in his community while anticipating people having the economic resources to buy solar panels.
Luis says "I enjoys being a part of TecAp because we microtechnicians and microfranchisees receive the support, encouragement, and prompt delivery of spare parts and products." Luis says "the income I receive from working with TecAp has me support my children's studies as well as hire others to work with me when I have more than enough work for my family." Luis is eager to continue moving forward with TecAp and with the development of surrounding communities.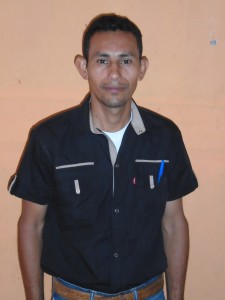 Bismark Morazán, 36, lives in a community Quilali called San Bartolo. Bismark has made a positive contribution to the TecAp program after he graduated. Just as TecAp is appreciative of Bismark's loyalty and hard work in the program, Bismark says that he feels that TecAp is family as it has helped him grow personally and professionally in addition to helping him to support his two children.
Bismark is different from many other microtechnicians in that before taking TecAp's solar systems course to learn to install, repair and maintain solar panels, Bismark had worked installing solar panels. Bismark said that he was self-taught and although he had worked in the field before, it is not the same as having formal, scientific training.
Bismark eagerly joined the course as he was in a state of needing to find ways to increase his personal income. Through becoming a certified solar panel technician with TecAp, he has been able to receive the scientific knowledge that presented him with an opportunity, to improve the natural environment , and to work with other aspects of renewable energy. Most importantly, Bismark likes this type of work. With this enjoyment, he has the motivation to continue to learn and do well.
Bismark has the opportunity to work with TecAp as a microfranchisee by selling solar products larger solar systems. Bismark, adventurous and passionate, gladly accepted the opportunity. Bismark has sold and installed many systems so he serves as one TecAp's top micro technicians. Bismark is proud to work with TecAp and to train other youth technicians on-the-job to be better installers. He stands behind TecAp's high quality products and their product guarantee. His enthusiasm is contagious. With his time working at TecAp he reports that has been able to earn more in one day than he made in two weeks with his previous job working as a water pump technician. With this income, Bismark has purchased tools as well as supporting his children's studies.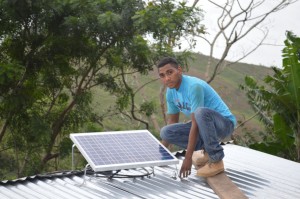 Juan Quiñonez is a young man, 20, who lives with partner and their two young children in the community Chachagua, located many kilometers from Murra. Within the community of Chachagua, there is no conventional electricity or phone service. To reach the town of Murra to purchase necessary products and services, one must walk five hours on a mountainous terrain as there is no transportation between the two locations.
Juan became involved with TecAp by participating in the course to become trained as a solar system technician. Juan's desire to learn about solar energy and to change the lives of his community and family, all of which he describes as being very poor. While in the course, he was very quiet but clearly excelled in the frequent tests. However, after the course, he was able to shed his shyness and turned into a champion in educating rural people about solar electricity and encouraging them to buy systems.
Everyone even Juan was pleasantly surprised by his transformation. After becoming certified as a solar system technician, Juan decided also to sell solar lamps since there was not a microfranchisee in his zone. The very day that Juan received lamps to sell, he set out in search for clients. As both a micro technician and microfranchisee, Juan now offers products and services that can be tailored to different classes of consumers. Typically when there is a little extra money to spend during harvest season, families who own their own land are purchasers of solar systems whereas families who own no land and have very little money purchase solar lamps.
When a person wants to borrow to buy a rooftop system, Juan actively seeks out a loan officer and guides him up and down the terrain to the family. He helps to find additional information that may be needed to more quickly process the loan, knowing that the family is now anxious to experience having electricity for the first time in their lives. As soon as the loan if ready, Juan eagerly works with a fellow technician to install the system as rapidly as they can.
Juan is a gentle, hardworking man. To find clients or attend TecAp meetings, Juan walks up to five hours in eagerness to participate in the program. He says he wants to continue being a part of a program that helps him provide a better future for his family and community. Juan openly expresses his desire to learn about how to do hybrid installations of solar power and conventional electricity. He is eager to learn about other trainings that IDEAS may offer in the future.